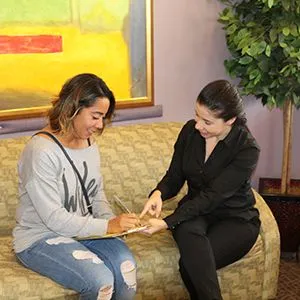 At We Smile Dental, our promise is to treat you like family at every visit to our dental office. Every day our staff works together with patients to develop positive treatment options to provide the stunning results that they deserve.
We offer a wide range of dental services, including preventive, cosmetic, restorative, orthodontic and surgical dentistry.
In our office we do everything possible to make sure each visit is pleasant and positive for our patients. We strive to earn the trust and loyalty of our patients with the hope to treat their friends and family for generations on end.
We offer a patient oriented environment that includes comfort, trust and education. We're dedicated to providing high quality dental care at an affordable cost.
For our new patients, we have provided a link below containing our new patient bundle with forms that must be filled out upon your arrival to our office. To speed up the process we suggest printing out the forms and filling them out in advance, so that your visit is as efficient as possible. Thank you and please call our office if you have any questions regarding the registration process.
---
What To Expect
Being well-prepared for your appointment will ensure that the doctor has all of the information needed to provide the best possible care for you. It also will help you relieve any unnecessary anxiety you may be feeling. Educate yourself on your symptoms by reviewing the content on this website. Also, take some time to review our staff page and familiarize yourself with the doctors. We look forward to your first visit.