Posts for: September, 2020
By We Smile Dental
September 18, 2020
We Americans love our sports, whether as participants or spectators. But there's also a downside to contact sports like soccer, football or basketball: a higher risk of injury, particularly to the mouth and face. One of the most severe of these is a knocked out tooth.
Fortunately, that doesn't necessarily mean it's lost: The tooth can be reinserted into the empty socket and eventually return to normal functionality. But it must be done as soon as possible after injury. The more time elapses, the lower the chances of long-term survival.
That's because of how teeth are held in place in the jaw, secured by an elastic, fibrous tissue known as the periodontal ligament. When a tooth is knocked out some of the ligament's periodontal cells remain on the tooth's root. If these cells are alive when the tooth is reinserted, they can regenerate and reestablish attachment between the ligament and the tooth.
Eventually, though, the cells can dry out and die. If that has already happened before reinsertion, the tooth's root will fuse instead with the underlying bone. The tooth may survive for a short time, but its roots can eventually dissolve and the tooth will be lost.
Your window of opportunity for taking advantage of these live periodontal cells is only 5-20 minutes with the best chances in those earlier minutes. You should, therefore, take these steps immediately after an injury:
Find the tooth, hold it by the crown (not the root end), and rinse off any debris with clean water;
Reinsert the root end into the empty socket with firm pressure;
Place clean gauze or cloth in the person's mouth between the tooth and the other jaw, and ask them to bite down gently and hold their bite;
Seek dental or emergency medical care immediately;
If you're unable to reinsert the tooth, place it quickly in a container with milk and see a dentist immediately.
You can also obtain an Android or IOS smartphone app developed by the International Association of Dental Traumatology called ToothSOS, which will guide you through this process, as well as for other dental emergencies. The quicker you act, the better the chances that the injured person's knocked out tooth can be rescued.
If you would like more information on what to do in a dental emergency, please contact us or schedule an appointment for a consultation. You can also learn more about this topic by reading the Dear Doctor magazine article "When a Tooth is Knocked Out."
By We Smile Dental
September 08, 2020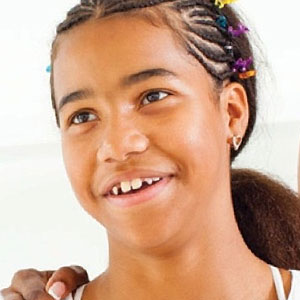 On the way to adulthood, permanent teeth steadily erupt until, if all goes normally, you have a full set of teeth. Sometimes, though, one or more teeth may fail to form. This not only can affect your dental health, but it could also diminish your smile.
For example, if the lateral incisors on either side of the central incisors (the two teeth front and center) don't develop, it could create a smile that's "not quite right." But we can vastly improve such a smile in one of three unique ways.
The first is to fill the resulting gap through canine substitution. This is an orthodontic method in which we use braces to move the pointed canine teeth, which normally position on the other side of the missing laterals, closer to the central incisors. This choice is determined by the size of the canine teeth. If they are slim in width, they can be re-shaped to make them appear more like a lateral incisor, and the gums possibly reshaped as well around them through cosmetic surgery.
We can also install a dental bridge, an appliance that fills the missing lateral space with prosthetic teeth. A traditional bridge requires the teeth on either side of the gap to be reduced in size, which becomes a permanent alteration to accommodate these crowns. This is a disadvantage in a young person.  We can also use a "bonded bridge" which uses adhesives to attach extended pieces (or "wings") of dental material from either side of the prosthetic tooth to one or more supporting teeth.  These wings are behind the permanent teeth.  Though not as durable as a traditional bridge, it does avoid altering the support teeth.
Finally, we can replace the missing teeth with dental implants. In this method, we install titanium metal posts into the jawbone at the missing tooth locations and then attach a life-like crown to each one. Implants may be more costly than other restorative methods and can take several months to complete. But they are life-like, highly durable, and don't require any alteration to other teeth. A disadvantage is that you should wait until at least 19 years of age to consider this option.  What many people do is use a temporary solution until the proper age to do a dental implant.
Each of these methods have their advantages and disadvantages, which should be thoroughly reviewed in consultation with your dentist. And each may also require other dental work, such as initial orthodontics to open adequate space for a restoration. But any of these methods for correcting a missing lateral tooth can be effective and help restore both a healthier mouth and a more attractive smile.
If you would like more information on treating congenital dental defects, please contact us or schedule an appointment for a consultation. You can also learn more about this topic by reading the Dear Doctor magazine article "When Permanent Teeth Don't Grow."