Posts for tag: oral hygiene
By We Smile Dental
June 06, 2019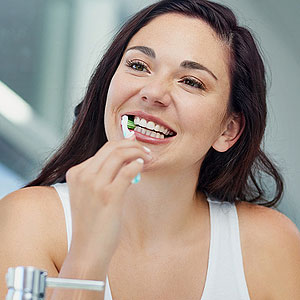 You're not just a patient to your dentist—you're also a partner for achieving your best oral health possible. And it takes what both of you do to achieve it.
No doubt your dentist always strives to bring their "A Game" when providing you care. You should carry the same attitude into your personal oral hygiene—to truly master the skill of brushing.
Like its equally important counterpart flossing, brushing isn't mechanically complicated—you need only a minimum of dexterity to perform it. But there are nuances to brushing that could mean the difference between just adequate and super effective.
The goal of both brushing and flossing is to clean the teeth of dental plaque, a built-up film of bacteria and food particles most responsible for dental diseases like tooth decay and periodontal (gum) disease. Brushing removes plaque from the broad front and back surfaces of teeth, while flossing removes it from between teeth where a toothbrush can't reach.
While a lot of cleaning tasks require bearing down with a little "elbow grease," that's unnecessary with brushing—in fact, you may increase your risk of gum recession if you brush too vigorously or too often. All you need is to apply a gentle, circular motion along all tooth surfaces from the gum line to the top of the tooth—a thorough brushing usually takes about two minutes, once or twice a day.
Your equipment is also important. Be sure your toothbrush is soft-bristled, multi-tufted and with a head small enough to maneuver comfortably inside your mouth. Because the bristles wear and eventually lose their effectiveness, change your brush about every three months. And be sure your toothpaste contains fluoride to help strengthen your enamel.
One last tip: while it may sound counterintuitive, don't brush immediately after a meal. Eating increases the mouth's acidity, which can temporarily soften the minerals in tooth enamel. If you brush right away you might slough off tiny bits of softened enamel. Instead, wait an hour before brushing to give your saliva time to neutralize the acid and help re-mineralize your enamel.
Unlike your dentist partner, your role in caring for your teeth doesn't require years of training. But a little extra effort to improve your brushing proficiency could increase your chances for a healthy mouth.
If you would like more information on best practices for personal oral hygiene, please contact us or schedule an appointment for a consultation. You can also learn more about this topic by reading the Dear Doctor magazine article "10 Tips for Daily Oral Care at Home."
By We Smile Dental
April 07, 2019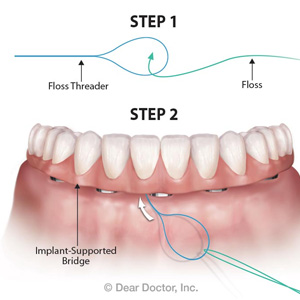 We've been using bridges to replace missing teeth for decades. Now, recently-developed implant-supported bridges are even more dependable, promising greater durability and less interference with remaining natural teeth.
But just like other restorations, you'll need to keep implant bridges clean to ensure their longevity. Although both the bridge and implants are impervious to disease, the supporting gums and bone aren't. If they become infected, they can break down and your restoration will fail.
Cleaning an implant-supported bridge includes flossing around each of the implants to remove dental plaque, a thin film of food particles and bacteria most responsible for dental disease. To perform this task, you'll have to pass the floss between the bridge and gums to access the sides of each implant.
To help make it easier, you can use a tool like a floss threader, a thin, shaft-like device with a loop on one end and a needle-like point on the other. You'll first thread about 18" of floss through the end and then pass the threader between the bridge and gums with the sharp end toward the tongue.
With the threader completely through, you'll then wrap the floss around your fingers as with regular flossing and move the floss up and down each side of the implants you can access. You'll then pull the floss out, reload the threader and move to the next section, repeating this process until you've flossed each side of each implant.
You can also use pre-cut floss with a stiffened end to thread between the bridge and gums or an interproximal brush with a thin bristled head that can reach underneath the bridge. And you might consider using an oral irrigator, a pump device that sprays a stream of pressurized water to remove and flush away plaque around implants.
To round out your hygiene efforts, be sure you visit your dentist at least twice a year for dental cleanings. Your dentist can also advise you and give you training on keeping your implants clear of disease-causing plaque. Cleaning around your implants will help ensure your restoration will last.
If you would like more information on caring for your dental restoration, please contact us or schedule an appointment for a consultation. You can also learn more about this topic by reading the Dear Doctor magazine article "Oral Hygiene for Fixed Bridgework."
By We Smile Dental
July 20, 2018
Among our most common diseases, tooth decay can be a big problem at any age: in the U.S., one in four children 5 and under has some form of the disease, as well as ninety percent of those 60 and older — and a quarter of those have suffered complete tooth loss.
Fortunately, we now know what needs to be done on a regular basis to prevent tooth decay. Unfortunately, many are uninformed about all they need to do to lower their risk.
Here, then, are 5 questions to ask yourself to see if you're on the right prevention path or not.
Do I brush and floss daily? If not, you're aiding and abetting the "enemy" — bacteria that cause tooth decay. Bacteria that make up plaque feed on any food remnants that adhere to tooth surfaces. Brushing at least once daily (twice is better) removes plaque, while flossing removes plaque between teeth that can't be reached with a brush. Removing plaque will lower your mouth's acid levels that cause a loss of minerals to the enamel surface.
Do I use the proper techniques for brushing and flossing? While it's important to establish daily hygiene habits, if you're not performing them properly you won't realize the full benefit from your efforts. But don't dismay — we can train you in the proper techniques for brushing and flossing your teeth.
Do I use fluoride toothpaste? This naturally-occurring chemical strengthens tooth enamel and makes it more resistant to decay. You can increase fluoride's absorption rate into enamel by using hygiene products that contain it.
Do I constantly snack between meals? Saliva neutralizes acid remaining in the mouth after eating in about 30 to 60 minutes. If you're constantly snacking or sipping acidic beverages, however, saliva can't do this effectively. It's best to limit snacking to a few, specific times and restrict acidic beverages to meal time only.
Do I visit the dentist for cleanings and checkups? While brushing and flossing reduce plaque, it can't remove it from hard-to-reach places below the gums or harder deposits (calculus) that have developed. A professional cleaning twice a year removes the plaque and calculus left from daily hygiene. We can also gauge the health of your teeth and determine if tooth decay or gum disease may be developing.
If you would like more information on tooth decay prevention, please contact us or schedule an appointment for a consultation. You can also learn more about this topic by reading the Dear Doctor magazine article "Tooth Decay: How to Assess Your Risk."