Posts for tag: oral health
By We Smile Dental
October 29, 2018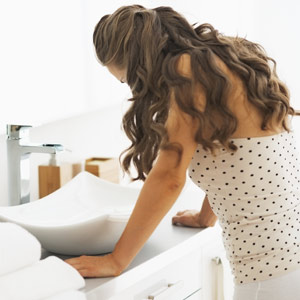 While most dental problems are caused by disease or trauma, sometimes the root problem is psychological. Such is the case with bulimia nervosa, an eating disorder that could contribute to dental erosion.
Dental erosion is the loss of mineral structure from tooth enamel caused by elevated levels of acid in the mouth, which can increase the risk for decay and eventual tooth loss. While elevated acid levels are usually related to inadequate oral hygiene or over-consumption of acidic foods and beverages, the practice of self-induced vomiting after food binging by bulimic patients may also cause it. Some of the strong stomach acid brought up by vomiting may remain in the mouth afterward, which can be particularly damaging to tooth enamel.
It's often possible to detect bulimia-related erosion during dental exams. The bottom teeth are often shielded by the tongue during vomiting, so erosion may be more pronounced on the unshielded upper front teeth. The salivary glands may become enlarged, giving a puffy appearance to the sides of the face below the ears. The back of the mouth can also appear red and swollen from the use of fingers or objects to induce vomiting.
Self-induced vomiting may not be the only cause for dental erosion for bulimics. Because the disorder causes an unhealthy focus on body image, bulimics may become obsessed with oral hygiene and go overboard with brushing and flossing. Aggressive brushing (especially just after throwing up when the tooth enamel may be softened) can also damage enamel and gum tissue.
Treatment must involve both a short — and long-term approach. Besides immediate treatment for dental erosion, a bulimic patient can minimize the effect of acid after vomiting by not brushing immediately but rinsing instead with water, mixed possibly with a little baking soda to help neutralize the acid. In the long-term, though, the eating disorder itself must be addressed. Your family doctor is an excellent starting point; you can also gain a great deal of information, both about eating disorders and treatment referrals, from the National Eating Disorders Association at their website, www.nationaleatingdisorders.org.
The effects of bulimia are devastating to mental and physical well-being, and no less to dental health. The sooner the disorder can be treated the better the person's chance of restoring health to their mind, body — and mouth.
If you would like more information on the effect of eating disorders on oral health, please contact us or schedule an appointment for a consultation. You can also learn more about this topic by reading the Dear Doctor magazine article "Bulimia, Anorexia & Oral Health."
By We Smile Dental
June 30, 2018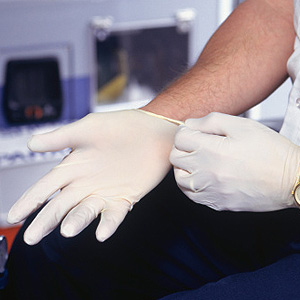 In our constant battle against infectious disease, the "enemy" is often too close for comfort: hospitals and other medical facilities must be ever vigilant against opportunistic infections their patients may contract while in their care.
Dental offices are no exception. Because even the simplest procedure — a dental cleaning, for example — may result in exposure, providers and patients alike face a possible health risk. We must be especially concerned with blood-borne viral infections — spread by person to person contact through blood — the most serious being hepatitis B and C, and HIV/AIDS.
Hepatitis is a viral inflammatory disease that disrupts the critical functions of the liver, particularly as it cleanses and regulates the blood, and cause serious bodily impairment or death. The virus can be transmitted when the blood from an infected person makes its way into the bloodstream of another person, mainly through cuts or a needle injection. Human immunodeficiency virus (HIV) can lead to the chronic condition AIDS that destroys the body's immune system; it spreads mainly through sexual contact, as well as through person to person blood contact.
The best defense against the spread of these diseases in dental offices or other healthcare settings is to eliminate as much as possible any opportunity for blood-to-blood contact. To accomplish this, all healthcare providers, including dentists, are mandated by federal, state and local authorities to incorporate and follow routine safety precautions. The U.S. Center for Disease Control and Prevention (CDC) issues regularly updated comprehensive guidelines for protocols and procedures to disinfect and sterilize equipment and facilities.
We dentists and our clinical staffs are also mandated by state licensing boards to refresh our knowledge of infection control procedures through continuing education. Such procedures cover every aspect of infection control, from barrier protection — by way of gloves, masks or gowns — to instrument disinfection.
Protecting patients as well as providers from the spread of infection is one of our profession's highest standards. As a result, incidents of infection among the 170,000 practicing dentists in the United States are rare. You can be assured, then, that we're taking every precaution to keep you and your family safe from disease when you visit our office.
If you would like more information on dental office procedures to prevent the spread of infection, please contact us or schedule an appointment for a consultation. You can also learn more about this topic by reading the Dear Doctor magazine article "Infection Control in the Dental Office."
By We Smile Dental
June 10, 2018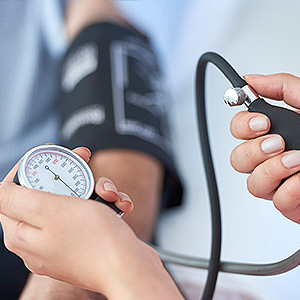 You may have been surprised by a new addition to your regular dental appointment routine—we took your blood pressure at the start. While you might expect this at a medical clinic, it seems unusual at the dentist's office.
But not anymore: blood pressure checks at dental offices are quickly becoming routine, including during regular cleanings and checkups. Here are 3 reasons why checking your blood pressure is now part of your dental visit experience.
Your blood pressure could be an issue during dental work. While we do everything possible to make you comfortable, undergoing dental work can create stressful feelings. Blood pressure normally increases when stress occurs, including before dental procedures. If you already have issues with hypertension (high blood pressure), any circumstance that might increase it could lead to health problems or even an emergency like a stroke. If your blood pressure is high, we may forgo any planned procedures and refer you to a physician for further examination.
Local anesthesia can affect blood pressure. Local anesthesia is an important part of dental work—without it we couldn't provide maximum comfort during procedures. But many anesthetics include epinephrine, which helps prolong the numbing effect. Epinephrine also constricts blood vessels, which in turn can elevate blood pressure. We may need to adjust the anesthesia drugs and dosages we use in your case if you have high blood pressure.
It could save your health—and your life. The symptoms for hypertension can be subtle and often go unnoticed. A blood pressure screening check is often the first indication of a problem. That's why blood pressure screenings in a variety of healthcare settings are so important. A routine blood pressure check at your dentist (who hopefully sees you at least every six months) is one more opportunity to find out. Discovering you may have high blood pressure is the first step to controlling it and hopefully avoiding more serious conditions like diabetes or cardiovascular disease.
If you would like more information on monitoring vital signs during dental visits, please contact us or schedule an appointment for a consultation. You can also learn more about this topic by reading the Dear Doctor magazine article "Monitoring Blood Pressure."