Posts for tag: dental implants
By We Smile Dental
December 28, 2018
Dental implants are widely recognized as the best tooth replacement option available. For most people, though, it's a long process: after a tooth is extracted the socket is allowed to heal and fill in with new bone before implant surgery: that can take anywhere from two to five months. Afterward, there's usually a two– to three–month period after the implant is placed before the permanent crown (the visible tooth) can be attached.
Without adequate bone present the implant's long-term stability might be compromised. Furthermore, the implant's durability is dependent upon bone growth around and attaching to its titanium post after surgery in a process known as osseo-integration. These two considerations indeed serve a critical function in the implant's ultimate success.
In recent years, however, a variation to this traditional implant process has emerged that allows for immediate implantation right after extraction. Besides combining extraction and implantation into one surgical procedure, immediate implants minimize the disruption to a person's appearance (especially with visibly prominent front teeth) when combined with a provisional crown.
Immediate implants joined together that replace a full arch of teeth can receive biting forces and succeed. Individual implants that replace single teeth, however, won't work in all situations and must be undertaken with care to ensure long-term success. Because there may be less available bone, the implant must fit snugly within the socket to maintain as secure a hold as possible. The surgeon must also take care not to damage too much of the gum and bone tissue when extracting the tooth, which could affect both the integrity of the implant and its appearance in the gum line.
Temporary crowns may be attached during the implant surgery, but they're installed for appearance' sake only. For individual crowns, they must be designed not to make contact with the teeth on the opposing jaw to avoid generating biting forces that will cause the implant to fail and stop the bone-healing process that occurs with osseo–integration.
If you're considering dental implants, it's important to discuss with us which type of procedure, traditional or immediate, would be best for you, and only after a comprehensive examination of your mouth and jaw structure. Regardless of the approach, our goal is to provide you with a smile-transforming restoration that will last for many years to come.
If you would like more information on the dental implant process, please contact us or schedule an appointment for a consultation. You can also learn more about this topic by reading the Dear Doctor magazine article "Immediate Implants."
By We Smile Dental
November 18, 2018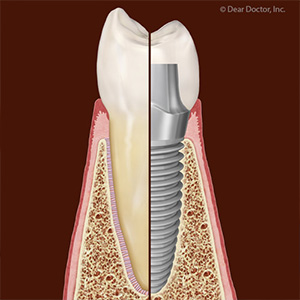 There are several reasons why dental implants are so popular. Perhaps the most important, though, is their longevity: if maintained properly implants can last for decades. However, they're not indestructible—certain mouth conditions could put them at risk for early failure. But if you address emerging problems early, you may be able to prevent that unfortunate outcome.
Your implants may be in danger, for example, if you have a teeth grinding or clenching habit. This occurs when a person involuntarily and repeatedly bites down on their teeth when not chewing or speaking. Usually triggered in adults by high stress, teeth grinding can subject both natural teeth and implants to damaging levels of force. Over time this can cause bone loss around an implant and weaken their support. It could also cause a direct break in an implant.
But there are ways to stop or at least reduce the effects of teeth grinding. One effective way is a custom-made bite guard you wear while you sleep. Made of hard plastic, the guard prevents the teeth from making solid contact with each other, reducing the amount of force generated.
A more prominent problem is periodontal (gum) disease, a bacterial infection caused by built-up dental plaque on tooth surfaces. This can trigger inflammation, a normal defensive response that when it persists for an extended period of time can damage tissues and supporting bone. It can also cause a specific form of gum disease related to implants called peri-implantitis, in which the tissues that support an implant become infected and weaken, leading eventually to possible implant failure.
If you have implants, then, you should brush and floss daily to prevent gum disease, as well as see your dentist at least every six months for cleanings and checkups. And if you notice anything like reddened, swollen or bleeding gums, see your dentist immediately. The sooner you undergo treatment, the better the outcome for your implants as well as your overall health.
Dental implants can give you years of great service and can prove to be well worth the cost. But you'll have to stay on your guard against gum disease and other mouth conditions that could endanger them down the road.
If you would like more information on dental implants, please contact us or schedule an appointment for a consultation. You can also learn more about this topic by reading the Dear Doctor magazine article "Dental Implants: A Tooth-Replacement Method that Rarely Fails."
By We Smile Dental
May 31, 2018
If you're considering different options for tooth replacement, dental implants are likely high on your list. Implants have a proven reputation for both durability and life-like appearance that can restore mouth function and revitalize your smile.
There is one aspect concerning implants, however, which gives people pause — the surgical procedure required to place the implants in the jawbone. If you're leery about undergoing this procedure we can put your mind at ease — for most patients implant surgery is a minor, pain-free process with little discomfort afterward.
While there are variations in style, implants generally have two major components: a titanium post that's implanted into the jawbone and a permanent life-like crown that's affixed 6 to 12 weeks after implant surgery. Titanium is the metal of choice because of its affinity with bone cells; over time bone will grow to and attach itself around the implant, a process known as osseo-integration. The metal post is normally spiral in shape, allowing it more surface area for bone to adhere to.
In the beginning of the procedure we administer local anesthesia to fully numb the area before proceeding. After accessing the bone through tiny incisions in the gum tissue, we create a small channel in the exposed bone. A surgical guide may be used to prepare the precise location for the implant with a series of drilling sequences that increases the channel until it matches the implant size. While this takes place, you should only feel a mild vibration and a little pressure from the drill.
The implants are then removed from their sterile packaging and placed immediately into the prepared site. The gum tissues are then sutured into place with self-absorbing sutures. Most people have only mild discomfort after the surgery that can be managed with a prescription-strength non-steroidal anti-inflammatory drug like ibuprofen. We may also prescribe antibiotics and other care instructions to ensure successful gum tissue healing.
With proper planning and precise implant placement by skilled hands, implant surgery is an easy and uneventful procedure. And, with your new crowns in place, your new, beautiful smile will make the experience a distant memory.
If you would like more information on dental implants, please contact us or schedule an appointment for a consultation. You can also learn more about this topic by reading the Dear Doctor magazine article "Dental Implant Surgery."