Posts for: June, 2020
By We Smile Dental
June 20, 2020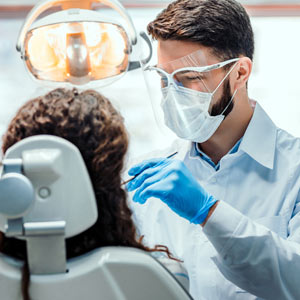 Over the last few months, federal, state and local officials have taken extraordinary measures to slow the spread of COVID-19. Thankfully, some of these measures are beginning to ease. But for many of us, lingering concerns about exposure to the virus will continue to affect our daily lives—including routine activities like dental visits.
We may be asking the question "Is it safe?" for our everyday activities for some time to come. But in regard to seeing your dentist, the answer to that question is an unequivocal "Yes." That's due not only to enhanced precautions put in place because of COVID-19, but also to longstanding practices in the dental profession to minimize the chances of infection.
In recognition this June of National Safety Month, we'd like to put your mind at ease that resuming dental care won't put you at undue risk of COVID-19 or any other infectious disease. Here's how:
Protocols. Everything we do to protect patients and staff from infection is part of an overall plan. This isn't optional: Both governments and professional organizations require it of every dental practitioner. Our plan, based on best practices for infection control, details the procedures we'll use to keep everyone involved in dental treatment, including you, safe from infection.
Barriers. Wearing masks, gloves or other protective equipment isn't a new practice arising from the current crisis—barrier protection has been a critical part of infection control protocols for many years. Rest assured that even during the most routine dental procedures, our staff will wear appropriate barrier equipment to reduce the possibility of infection during treatment.
Disinfection. Viruses and other infectious agents can live for some time on surfaces. To close this possible route of infection, we clean all clinical surfaces between patient visits with approved disinfectants. Instruments and equipment are thoroughly sterilized after each use. And any waste generated during treatment is separated from common waste and disposed of carefully following hazardous waste removal protocols.
It may be a slow return to many aspects of life we once took for granted. Your dental care doesn't have to be one of them. We were prepared before this crisis, and we'll continue to be prepared when it's over to keep you safe from infection.
If you would like more information about dental office safety, please contact us or schedule a consultation. To learn more, read the Dear Doctor magazine articles "Infection Control in the Dental Office" and "Dental Hygiene Visit."
By We Smile Dental
June 10, 2020
As the host of America's Funniest Home Videos on ABC TV, Alfonso Ribeiro has witnessed plenty of unintentional physical comedy…or, as he puts it in an interview with Dear Doctor–Dentistry & Oral Health magazine, "When people do stuff and you're like, 'Dude, you just hurt yourself for no reason!'" So when he had his own dental dilemma, Alfonso was determined not to let it turn onto an "epic fail."
The television personality was in his thirties when a painful tooth infection flared up. Instead of ignoring the problem, he took care of it by visiting his dentist, who recommended a root canal procedure. "It's not like you wake up and go, 'Yay, I'm going to have my root canal today!'" he joked. "But once it's done, you couldn't be happier because the pain is gone and you're just smiling because you're no longer in pain!"
Alfonso's experience echoes that of many other people. The root canal procedure is designed to save an infected tooth that otherwise would probably be lost. The infection may start when harmful bacteria from the mouth create a small hole (called a cavity) in the tooth's surface. If left untreated, the decay bacteria continue to eat away at the tooth's structure. Eventually, they can reach the soft pulp tissue, which extends through branching spaces deep inside the tooth called root canals.
Once infection gets a foothold there, it's time for root canal treatment! In this procedure, the area is first numbed; next, a small hole is made in the tooth to give access to the pulp, which contains nerves and blood vessels. The diseased tissue is then carefully removed with tiny instruments, and the canals are disinfected to prevent bacteria from spreading. Finally, the tooth is sealed up to prevent re-infection. Following treatment, a crown (cap) is usually required to restore the tooth's full function and appearance.
Root canal treatment sometimes gets a bad rap from people who are unfamiliar with it, or have come across misinformation on the internet. The truth is, a root canal doesn't cause pain: It relieves pain! The alternatives—having the tooth pulled or leaving the infection untreated—are often much worse.
Having a tooth extracted and replaced can be costly and time consuming…yet a missing tooth that isn't replaced can cause problems for your oral health, nutrition and self-esteem. And an untreated infection doesn't just go away on its own—it continues to smolder in your body, potentially causing serious problems. So if you need a root canal, don't delay!
If you would like additional information on root canal treatment, please contact us or schedule a consultation. You can learn more by reading the Dear Doctor magazine articles "A Step-By-Step Guide to Root Canal Treatment" and "Root Canal Treatment: What You Need to Know."